Greater Colorado Springs Foundation Repair Experts
Get complete foundation repair services for your home in CO
Are foundation problems affecting the structural integrity of your home? Wall and floor cracks, bowing walls, and foundation settlement are all serious issues that need repair, which is why Peak Structural, INC. is here to to help you with your needs.
At Peak Structural, INC., we have years of experience providing quality foundation repair solutions to homeowners in the Greater Colorado Springs area. As a member of the international Foundation Supportworks network, we use industry leading products and on employ fully trained and authorized foundation experts. Our professionals will carefully evaluate your home and identify the best solutions for your specific needs.
If you need any foundation repair services for your home, call us today at 1-800-793-8224 or contact us online to get started. We offer free estimates on all our work in Pueblo, Colorado Springs, Castle Rock and throughout the nearby areas in Colorado.
Common Foundation Issues in Greater Colorado Springs:
(Click for more information about each solution.)
Before and After
Before

After

The house was built in 1960 and hasnt had any repairs done in atleast three decades. Below you can see the before and after pictures of a basement that had 3 of the 4 walls straightened with Geo-lock wall anchors and cracks that were leaking water into the basement sealed with epoxy seal.

Before

After

A basement in Denver had a deep bow in the concrete wall that had caused the wall to slip out of the sill plate. Peak Structural went in and used Geo-locks to the straighten and stabilize the wall to prevent further damage or destruction.

Before

After

A basement in Arvada, CO had multiple cracks in the walls of the basement and window wells that were not allowing natural light into the space. After the Peak Structural Team went out and provided a no cost estimate for the project, Chris and his team went out and patched the cracks, installed wall anchors, and removed the window wells. Now the basement walls are straight, strong, and there is plenty of natural light in the basement space.

Before

After

Tony began noticing signs of a sinking foundation, including his chimney pulling away from his house. He recognized the issue needed to be addressed before things went from bad to worse. Peak Structural was able to help by installing push piers to help level the foundation. Now Tony can rest easy knowing that his foundation is level and secure for life!

Before

After

Shorty's old window wells were not big enough nor did they meet the safety regulations for emergency exits in case of fires. Peak Structural came in and installed new window wells that not only met these needs and expectations, but went even further by providing a warranty that ensure the longevity of the job done.
Solutions for every foundation repair problems
At Peak Structural, INC., we work with a wide variety of foundation repair techniques to ensure that your home is fully repaired. From helical and push piers to wall anchors and stabilization systems, we have a quality foundation repair product for every problem.
We don't use a "one size fits all solution" when it comes to foundation repair. Your foundation expert will help you find the right product or combination of products to ensure you get a safe, stable foundation.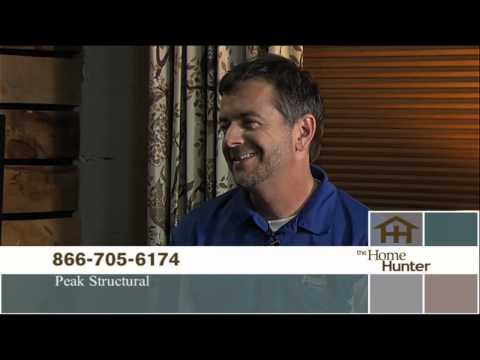 Solving Foundation Problems in Colorado |...
Paul Sutton, owner of Peak Structural Inc., joins Tiffany Hunter and Linnore Gonzales in this episode of the...
Watch Video
Related Videos
Restore your foundation's safety and stability with Peak Structural, INC.
Customer Reviews
By Peter G.


By Patricia G.
Colorado Springs, CO

By Brenda H.
Canon City, CO

By Jerry L.
Thornton, CO

By Ben A.
Walsh, CO

"In both instances, each team left our home and yard better than they found it. Both crews were very respectful to us and our..."

By Brandon D.
Rocky Ford, CO

"Zach is the man, very knowledgeable and does good work!"

By Anne R.
Calhan, CO

"I'm glad you sent this survey as I wanted to let you know of the wonderful job that was done by Brandon, the installer. He came..."

By Cindy A.
Falcon, CO

By Bertha M.
Peyton, CO

"When we first called Peak, the wait for someone to come out was a month so we called two other places. They came out and either..."

By Bertha M.
Peyton, CO

By Mike O.
Falcon, CO

By Stacey
Peyton, CO

By Mark
Thornton, CO

By Judy S.
Aurora, CO

"I went to Handyman.com on the internet and Peak Structural was the best of all. Brian & Ben are the best at what they do and..."

By Judy
Aurora, CO

"I found your company on Home Advisor and they highly recommended you. I am so happy we chose you."

By Dennis K.
Aurora, CO

By Dean D.
Commerce City, CO

By George J.
Fountain, CO

"Everyone involved was extremely polite, extremely professional, and I was very pleased with the service from start to finish."

By Lee B.
Fountain, CO

By Vince S.
Fountain, CO

By Marilyn
Castle Rock, CO

By Michella C.
Parker, CO

"Very knowledgeable and helpful"

By Sallie
Castle Pines, CO

By Judy M.
Pueblo, CO

"Stephen, Janae, and Anthony were very professional, punctual and knowledgeable. Stephen went out of his way to ensure that I..."

By Lisa
Pueblo, CO

"Very profeesional and did a great job. All areas of concern were taken care of."

By Pamela F.
Pueblo, CO

By Bryan A.
Pueblo, CO

By John G.
Pueblo, CO

By Wilbur L.
Pueblo, CO

"JP was an outstanding representative, totally professional and efficient and polite. Very helpful in explaining my problem and..."

By Patricia W.
Pueblo, CO

"The details of the info you give is very understanable and easy to follow"
No matter what type of foundation problem you have, Peak Structural, INC. will provide a comprehensive inspection and recommend the best solutions for your home. Our goal is to ensure that you have a stable, durable foundation that allows your home to retain as much value as possible.
From foundation cracks to bowing walls to settling concrete slabs, you can count on us for an effective, long lasting foundation repair solution. Call us today at 1-800-793-8224 or contact us online to get started with a free estimate! We offer all our foundation repair services in Colorado Springs, Pueblo, Castle Rock, Monument, Fountain, Woodland Park, Trinidad, Elizabeth, Peyton, La Junta and the nearby areas.