Eliminate Crawl Space Radon Gas in Colorado Springs, Pueblo, Castle Rock & Nearby
What is radon?
Radon is a cancer-causing radioactive gas. You cannot see, smell, or taste radon, but it may be a problem in your home. Contact us to eliminate the radon gas problem in your home in Pueblo, Colorado Springs, Castle Rock, Monument, Fountain, Woodland Park, Trinidad, Elizabeth, Peyton, La Junta, U S A F Academy, Rocky Ford, Calhan, Walsenburg, Manitou Springs, Larkspur, Franktown and the surrounding area.
Factors that lead to a radon problem:
How potent the radon source is
How easily the radon enters in
The building's ventilation rate
Test Your Knowledge in this Fast Facts About Radon Quiz!
True or False? Elevated radon levels have been discovered in virtually every state.
True.
The EPA estimates that as many as 8 million homes throughout the country have elevated levels of radon.
True or False? My neighbor had a radon test and it came back ok. I still need to get a radon test.
True. According to the EPA, radon levels can vary from house to house and from neighborhood to neighborhood. Results from one house don't guarantee results in another.
True or False? I do not need to check for radon outside of city limits.
False.

State surveys to date show that 1 out of 5 homes
has elevated radon levels. See the map on the right:
Zone 1 counties have a predicted average indoor radon
screening level greater than 4 pCi/L (pico curies per liter)
(red zones)
Zone 2 counties have a predicted average indoor radon
screening level between 2 and 4 pCi/L (orange zones)
Zone 3 counties have a predicted average indoor radon screening level less than 2 pCi/L (yellow zones)
True or False? I want to finish their basement before I sell. I should get a radon test.
True.

If you are planning any major renovations, such as converting an unfinished basement area into living space, it is especially important to test the area for radon before you begin. If the test results indicate an elevated radon level, radon-resistant techniques can be inexpensively included as part of the renovation. Major renovations can change the level of radon in any home. Test again after the work is completed.
True or False? Crawl Spaces with exposed soil can significantly increase the amount of radon in a home.
True.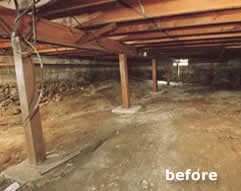 Exposed soil in a crawlspace is a source of radon. However, there are cost effective options to keeping radon low even with a crawlspace in your home. EPA generally recommends methods that prevent the entry of radon into the home, such as sealing cracks. It is difficult to identify and permanently seal the places where radon is entering. Normal settling of your house opens new entry routes and reopens old ones. Peak Structural, INC. offers a solution that seals radon entry routes, but isn't effected by the settling and shifting of the home. Peak Structural can install a CleanSpace® system that effectively seals a crawlspace— sealing out radon, allergens, mold, and creepy crawlies. If your clients have a partial or full crawlspace and high radon levels, they should consider a CleanSpace® system.
Your Score:
4-5 You're Radon-Savvy!
3 Working hard to keep your family safe
2 Radon just got on your radar
www.epa.gov/radon to learn more about Radon Issues
---
Browse Our Crawl Space Products